We offer appointments for preventative care and non-urgent/emergency conditions six days a week. Emergencies are accepted any time our clinic is open. If you have an emergency, please call us before coming to the clinic so we can let you know if there is anything you can do for your pet before you arrive at our clinic and so we can prepare for your arrival.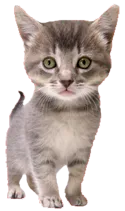 For further emergency information after hours, please visit the following websites:
Blue Pearl of Duluth: https://bluepearlvet.com/
ASPCA Animal Poison Control: https://www.aspca.org/pet-care...
We are also available for urgent care for those times when your pet needs prompt medical care but isn't in a life-threatening situation. If your pet needs to be seen before you are able to get an appointment, our veterinarians will work to "squeeze" you in between scheduled appointments. When you arrive, our staff will be able to give you an estimate on how long you may have to wait before being seen.
The veterinarians at Mesaba Animal Hospital treat the following species:
Dogs
Cats
Rabbits*
Pocket Pets*
Reptiles*
Birds*
Goats
*Select veterinarians only. Call us at 218-262-1051 for more information.